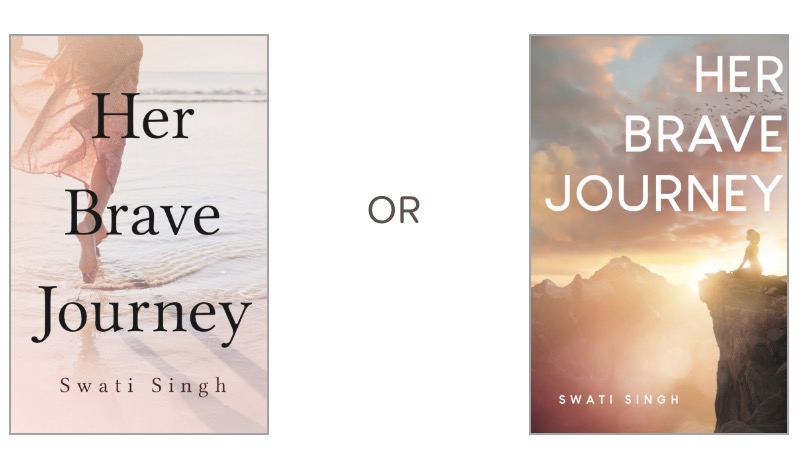 Dear All!
My first book, "Her Brave Journey" releases on April 17th.  Please vote for what you think my upcoming book cover should look like on this link: https://www.koehlerbooks.com/cover-polls/her-brave-journey/
Synopsis:
During her almost-final moments when Kiara was pinned down by a man who claimed to love her, the only images she saw was of her mother and father. Fighting to breathe, her life was at the mercy of her husband. She repeatedly begged him, "please don't kill me. My parents need me." Her voice was hoarse from the strangulation. What just happened to her is something called domestic violence, which happens to one in four women and one in nine men in the United States alone (according to the NCADV).
Even in today's #MeToo era where women and men are speaking about their stories of assault and abuse, this particular topic is still discreet, especially in the South Asian community. "Her Brave Journey" is a fictitious story about a woman from this community who is stuck in the vicious and confusing cycle of abuse. Society expects women to believe the 'whitepicket fence dream' where happiness and prosperity only means marriage and children.
But this dream is a false perception because those who choose not to get married, stay married, or not to have children can still be very happy and prosperous. Furthermore, this false dream also pressures women to stay in unhappy marriages just for the sake of maintaining a societal tradition. Kiara is one of those women who challenges patriarchy and recognizes the pretenses of the 'white-picket' fence dream and dares to defy it. "Her Brave Journey" will resonate with a lot
of women, especially those of South Asian heritage, who battle societal and culture pressures every day. "Her Brave Journey" is a powerful message to victims and survivors of abuse, married couples, divorced couples, and individuals who religiously follow self-help books because it teaches self-empowerment and how to recover from adversities. Go inside the life of Kiara and follow her brave journey as she reclaims her life and discovers her inner warrior.